If you follow any reviewing channel, blog, etc; then the idea of a top best and worst list of the year isn't going to be rocket science for those new to my blog. You know the drill, I list five films and explain why I personally didn't feel they weren't worth the ticket price. If you disagree with what I have to say, I hope you can give the courtesy of not leaving a flaming bag of dog shit on my door step. But please keep this in mind: I'm not a professional critic, so I've not seen every film released that year in order to pay my rent. Hell, the only reason the films at numbers five and four are on the list, is because the three worst films, as well as two films I wasn't exactly blown away, doesn't make a good title. Either way, let's do this!
Number Five – Alien Covenant: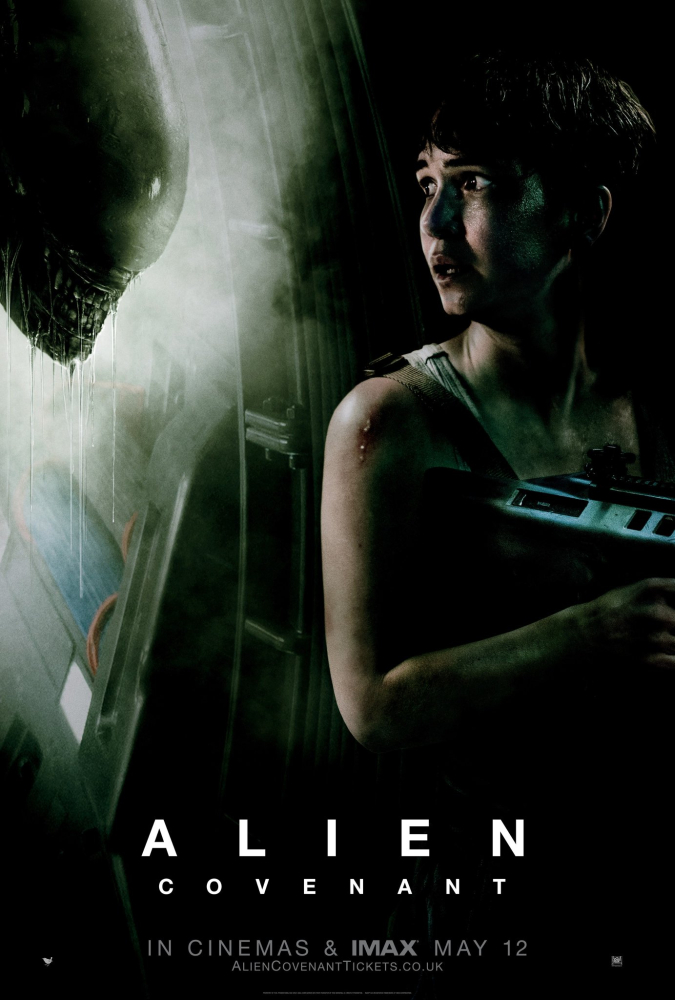 You'd think after the art house level of pretentiousness as seen in Prometheus, that Ridley Scott would learn from his mistakes he made whilst trying to write a "deep" and smart story with a script with more holes than a Xenomorph at a NRA rally. Well thankfully while Scott isn't busy trying to top Lost in the quest of establishing more questions than you can answer, it's clear that him and his writers have learned little else. Particularly since the characters went from idiocy only present to get the plot running; to full-blown brainless with less personality than the Aliens themselves. One minute a crew member will open a quarantined room with an alien inside, leading to said crew member to slip on the blood of a person already killed by the thing; and then next they open fire on an alien and accidentally shoot the shuttles fuel tanks in the process. And naturally they explode, taking the shuttle in the process because this is a movie. I joked about trigger happy gun owners, at least most of them know which end to point the damn thing! And less we forget about how the story focuses on the ADD afflicted explorers on a foreign planet, as they can't resist touching everything that isn't nailed down, and get surprised about how an unknown substance may be toxic to a life that has never been on this planet till that point. "You mean I got sick from huffing the fumes of undiscovered plant, how was I supposed to know?" How exactly is this exploring the origins of the original Alien film when the staff of Weyland Yutani spend most their free time playing in traffic? And yet given the excellent cinematography and scenes of Micheal Fasbender as the two robots; I was half tempted to recommend this film as they're parts that we're trying to an Alien film and give the attempt of action and atmosphere that we're decently executed. But don't get me started on how an already mediocre story with bland protagonists, is rendered more hollow due to scenes of character development and links to the previous film are already up on You Tube. Did nobody learn anything from DCs mishaps last year when it comes to cutting out random scenes and still expect the story to work? Is this the worst Alien film? No. Is it better than Prometheus? Yes, is a good movie on its own? Eh.
Number Four – Ghost in the Shell (2017) :
I'm going to be honest by saying how I wasn't a fan of the anime this is based on; look I tried dear reader twice I did, but the only thing lower than this movies box office results, were my expectations. In fairness, I was going to be kind to this new adaptation; particularly since, to its credit, the great voice acting and art design in the original managed to sell my on a connection between the lead characters that managed to keep me awake during the run time. This film…..haven't we learn nothing from Dragonball Evolution? Even someone like me could tell that this film is suffering the major (no pun I swear) symptoms of a bad adaptation. Streamlining the narrative, replicated scenes lifted straight from the source material removed from proper context leading to scenes feeling weightless, redone shots for the trailers and characters featured because the original said they had to be there. And speaking characters, you know something's wrong with the lead character when the fact that a bunch of PC bullshit artist are accusing the film of "white washing" is the least of the problems with Major. With Scarlett taking the robot aspect of her character way too literally, I was expecting her to say beep bop during multiple scenes. I mean with pacing so dragged out it felt like each scene was put through a taffy puller, why not liven up this performance that was so phoned in the studio might as well replaced Black Widow with an actual robot with tunnel vision, if the multiple action scenes that involved her getting tasered are anything to go by.
The original is praised for its creative and gorgeous animation, while this film is well rendered but feels lifeless. Blandly shot, cinematography where most of the elements blend together, as when the characters that aren't in the outdoor parts of Blade Runner city #46853, you have generic grey buildings. Hell say what you will about 2049, at least the scenery could be told a part from each scene to another. Next!
Number Three – The Mummy (2017) :
Ah bless Universal for thinking they compete with Marvel in the cinematic universe Olympics Hollywood is going through right now. Now in theory a film series featuring Dracula, The Mummy and other monsters Universal owns the film rights to would've worked, if only Universal listened to the feedback from Dracula Untold, the film they tried to use as a franchise starter before; apparently that was too much to ask for. Instead of getting a modern-day version of the entertaining Bredan Fraisher Mummy film, we get a Tom Cruise vehicle where he basically plays himself without a sense of empathy or intelligence. As he sends his friends on idiotically dangerous plans, meanwhile Cruise is getting thrown dozens of feet in air by an ancient goddess and landing without a raised heartbeat let alone scratch due to him being possessed by a demigod; because the curses in this film are like the stars in Mario Bros, in the sense that you get one and you're untouchable. Looking at the trailers I was confused about whether if this would return to the classic horror style of the classic monster film, or redo the Steven Summer film. Apparently so we're the writing team; as we have scenes of horror, action and poorly executed comedy all Frankensteined together; because if none of the six writers are willing to talk to each other to make this shit fit, then someone's got to do it. And less we forget how one of those writers was tasked to set up the Dark Universe, and by set up I mean dedicate thirty minutes to explain Sheild's…ah I mean Prodigum's location, purpose, previous achievements and leaders of the operation, hey look it's Mr Hyde! All of this in the most nakedly blatant attempt to get audiences to see the next film in the series since Dawn of Justice. Listen Universal after this, Dracula Untold and your Wolf-man remake you'd better hope that The Bride of Frankenstein remake does better and sell like sugar flavoured blunts, in 2019. If Wonder Woman can come out as great as it did in the half a year time it did, after Batman v Superman was burned in effigy, what excuse will you guys have in the two years when this next film goes down like a wooden windmill in an obvious metaphor. Next!
Number Two – The Snowman:
Michael, I now have to take away the praise I gave you for Alien Covenant, because of the performance you did during this bore. There's a fine, fine line between acting indifferent with those around you due to alcoholism (that being a plot point in this and the book it's based on) and running out of shits to give by the time you get out of bed; this film shows Michael Fassbender sleep walking over that line, tripping over it and passing out on the floor. So when multiple other Hollywood actors are flown to Norway, and their characters given Norigeon names and are told to develop appropriate accents, the fact that Fassbender is snoring his way through this, to the point that he didn't even get the name of his character right; well that shows how indifference the production was. Especially when word has since got out about how the film wasn't even technically finished. And given how stilted and disjointed the story ended up, it shows. You'd think for a movie with the pacing of watching an ice cube melt in the artic, would have the decency to focus on the main character without ballsing it up by spending scene after scene showing how Fassbender's family relationship is falling apart at the rate of of Harvey Weinstein's reputation, and having his previous work as a policeman glossed over and explained through side characters. But sadly that's what we get. No idea why the supporting cast constantly lining up to kiss our lead's arse, when he ends up missing so many obvious hints from the crime scenes, and has others point them out for him, he makes Inspector Cluso look like Sherlock Holmes; when it comes for waiting for this plot to start, Godot ain't got shit. And yet that's despite the fact that our lead still figured out there is indeed a serial killer to catch before any other characters could've done, in a lucky logic leaping moment that could send the writers into orbit. I guess the rest of the answers were the 10-15% of missing scenes, which sends the story into a huge mess; the pacing being the main example, due to scenes moving slowly like a drunk turtle, while structurally the story skips over important details and answered of said information before it just kinda ends. This film tries to recreate the book it's based of, and yet comes across like a book report that was set for Friday morning, and didn't get start till Thursday evening. Next!
Number One – The Emoji Movie:
No surprise that a movie based around images you send to your friends when you're too lazy to type words would fail when put in the hands that aproved and made The Smurf movies. Even knowing how this film "borrows" the story of like seven other animated films, with a concept that paint drinkingly stupid, with the expectations of most carbon based life forms being so low they're limbo dancing with the germs in satan's toe nail infections; I still came out mad with the result of several fart huffing sessions at Sony's Animation studio. Pretty much every film commentator in the multi-verse has said accurately bad things about this film, so I'm just going to list the major things wrong with this film.
A shitty script lifting the plot points and story notes as seen in everything from Wreck it Ralph to Toy Story. With a main character that doesn't fit into his surroundings, only to end the hour and a half of agony realising his fine the way he is. Pretty much the story in half of all the kids films nowadays.
Said story has crow bard so many apps into its script, no matter how little sense it makes, you see the cracks around the edges. Particularly when the movie stops the "plot" just so the characters can play Candy Crash, Just Dance, and watch You Tube videos. And don't even get me started on the dues ex Twitter bird.
Make the overall experience all the more unpleasant with unfunny jokes from unfunny characters. A lead that can't even hear his own name without having an emotional breakdown. A talking hand who, plot wise, is about as useful as Stephen Hawkings bowling shoes. And finally Wyldsytle, ah.. Jail Break, a tomboy that wants people to ask her about her feminist agenda, and how she don't need no man every ten minutes. To the point that she willing ditched her title of a princess emoji….because girl power. It's clear that Jail-Break went to the Jane Foster's Thor school of promoting equality between genders by ranting about how the men around her are complete jack assess.
The voice acting: How is it that two characters are called meh, and yet they're not the only hollow voice actors in this film. Particularly when everyone is waiting for their check to clear. I would say their phoning it in; but that would be an insult to Alexander Graham Bell, and second it would imply effort was made.
The "dialogue" With every joke being a pun relating to emojis or the apps in question, with the punchline predictability of rain full in the british summer. I would make a joke about it trying to be a laugh riot, but i remember seeing more belly laughs during Charlettesvile. And did i forget to mention how there scenes that feel like Black Mirror as written by a tumblurite? Particularly when no human character is seen without a phone in hand or in eye sight, with a supporting character with a short temper and a large ego.
But hey, in the words of Denis Miller, "That's just my Opinion, I could be Wrong".
Thank you for your time.
Thank you for your time.