Welcome to the fifth installment of 'Think It Through', the series where I poke holes in the logic of things that don't seem to run on any logic.
So the Rio Olympics were a thing a few days ago, and now that the dust is settled (well at least by the time I finish writing this thing) and people have celebrated the achievements of the winning athletes. But alas not everything can be so happy; especially when the social justice babies start emerging from their Tumblur blogs looking for something to do. And in their never-ending quest to bully anyone more relevant than them; they decide to go after the voice of Dory from Finding Nemo.
I
guess they were that keen to disprove the notion that anyone that isn't white, straight or born with a dick is public enemy number one and only, while everyone else is excused from consequences….its just the women they do it to. So for those not in the know, Jamaican athlete Usian Bolt competed, with a photo of him grinning at the camera as he completed the race. And like the Internet usually does. It photoshopped the image into various memes for the shakes of a joke. Well Ellen DeGeneres also took to Photoshop with her own image.
Now you see that image here above the sentence? Right tell me what is wrong with that picture? If you said nothing you're correct. However we live in the world of individuals that more trigger happy than Yosemite Sam on Red Bull and crack. Because she was accused of racism, due to the picture's "connections"
(if only the quotation marks could get bigger than the site will allow) to slavery. I mean look at this image here to the right. As the mouth breathers on Twitter compared a photo of Ellen saying that: being given a piggy back ride by Usian Bolt is faster than taking her own car (which is probably true) to slave masters using their slaves as furniture. WHAT?!
See this is why the Olympics need a game for furthest distance away from the point; because if these people were in US team, they would be taking home the gold from now till the end of time and beyond.
Unless Ellen also edited herself being pulled by a kart tied around Bolt's waist, while whipping him with one hand, and holding a poll with a water melon attached via some string. Then you have lost me on how this is racist. Those two from the 1800s keep being brought. Yes that happened a long time ago. But as far as Google is aware, this is the exception and not the norm. And yet they keep popping up as a means of quit by association; because god forbid people move on from their countries past. Unless she's maceing the guy while she's dressed in a police uniform, the only racism is in your own head, that is if you believe in the crap that is more of a stretch than a fat lady's g-string. As if the argument that political correctness is to comedy, what cancer is to the human lungs; needed anymore proof.
And the best thing of all, is that Ellen finally commented about the c(n)onterversy by saying this:
And good for her to basically say: "I'm not racist, and your morons are taking this out of context". – Ellen DeGeneres, in an ideal world. Because if the Social Justice morons have told us anything, it's that context and apologies are more meaningless than their credibility as a movement. I mean these are the same people who praised the Ghostbusters reboot of promoting girl power, before calling the trailer racist for not having the black woman not be a scientist…last time I tak about the Ghostbusters reboot i swear.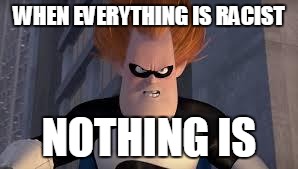 So can everyone please stop trying to associate things that aren't racist…with racism? Please, because most of the time in this day and age, it's not there. So how about we start using the word racist when discussing actual hate attacks and acts based on nationality and skin colour; before the it starts becoming a synonym for something other than its proper definition, given the people who'll throw the word around like water.
Thank you for your time.