What the hell is going on with DC? When The Dark Knight left cinemas back in 2008, did a curse fall upon the land, dooming them to eternal bad luck? Because while Marvel is constantly killing it with their cinematic universe; DC and Warner Bros have been also releasing comic book films between now and 2008, with catches on each one; that wasn't part of the Dark Knight trilogy. Watchmen in 2009, bombed. Jonah Hex in 2010, panned. Green Lantern in 2011 did both, as the film crashed and burned harder the ship that delivered Hal's lantern ring.
Even films in the Extended Universe (The DC Extended Universe, that is what they're calling it) like Man of Steel and Batman v Superman made by Zach Synder, faced untold amounts of mixed reviews from fans and critics a like; despite the box office figures. Some loving Synder's direction; while others…didn't. Dawn of Justice faced negative feedback coming from both fans and detractors alike. It's been like three months or so since the film's release, and Snyder is still pulling buck shot shrapnel from his nut sack. Well…he was until film's "Ultimate Edition" improved a large amount of the film's flaws; even if it still is a prequel for Justice League, and the film knows it. And with the recently released trailers for Justice League and Wonder Woman, fans are slowly starting to be won over again.
Anyway, the change in styles between those two films and this new Suicide Squad film, got fans excited; especially with a new director, tone and trailers that used tunes like Bohemian Rhapsody and Ballroom Blitz. Hell something new from a DC film that's not Batman or Superman, plus given how fun the two trailers were. How could this fail? Can this film finally win over audiences and critics a like towards DC's film universe?
 God damn it!
Well let's do this. Taking place after Batman v Superman, the government grow concerned over the possibility of other super powered brings on earth. Thus Amanda Waller (played by Viola Davis) sets up a team of criminals with skills ranging from weaponry, combat and even magic; as they're ordered to do missions for the government, and not activate the bombs implement in their heads; in return for lower prison sentences. Their first mission leads to the group having to stop a rouge squad member, a woman known as Enchantress, as the group fight for their survival and freedom against her and her demonic brother.
Despite the flack i gave Batman v Superman early this year, for its ridiculous amount of characters; here the story is much more focused. Each character feels relevant to the story, and their given the opportunity to interact with each other and the world around them. The cast themselves have great chemistry with each other, as the group start to open up and slowly start to work together. Quickly establishing their characters, and allowing the actors to get on with the story. Will Smith and Marggot Robbie as Harley Quinn and Dead Shot being a good example. I enjoyed their scenes together;  as it was interesting watching Smith's cynical smart ass, interact with the crazy but tough as nails chick of Harley Quinn; who Robbie captures excellently, making her fun to have on-screen. The rests of the cast do great with their roles as well; Rick Flag and Enchantress' scenes were good, making you understand the conflict of their relationship (long story) with Joel Kinnerman doing a great job as a Sargent who's just trying to keep the squad in order.
Jai Courtney really surprised me as the loud mouth Captain Boomerang; with this being the guy's best performance since….um….One of the biggest surprises for me was Jay Hernandez as El Diablo. The guy is great as the more sympathetic character who doesn't want to fight or use his powers really; in fact for this type of story, his only there because he was dragged into it by Waller, more on her later, and his back story is a really great pay of for his arch. If this is how the guy is like in the comics, i'm really interested to learn about the character. But for me the best performance was Davis as Amanda Waller, the lady excellently pulls of the cold, manipulative, cynic that gets under the squad's skin; as she "persuades them" into joining the fight.
She greatly captures the character of the comics. But that said, the rest of the main cast are pretty wasted,Slipknot is only there to prove Waller's point, Killer Croc and Katana only get a few lines of dialogue, they're mainly there to be in the battle scenes; with her just showing up as the group heads out to Midway City. And despite the amount of marketing featuring this guy, The Joker is barely in the film. He has a subplot with Harley, and then his gone for the rest of the film; which sad because it's clear that Jared Leto can do a very good Joker, i like what he does with the character. Please let him be the villain for Ben Afleck's Batman film.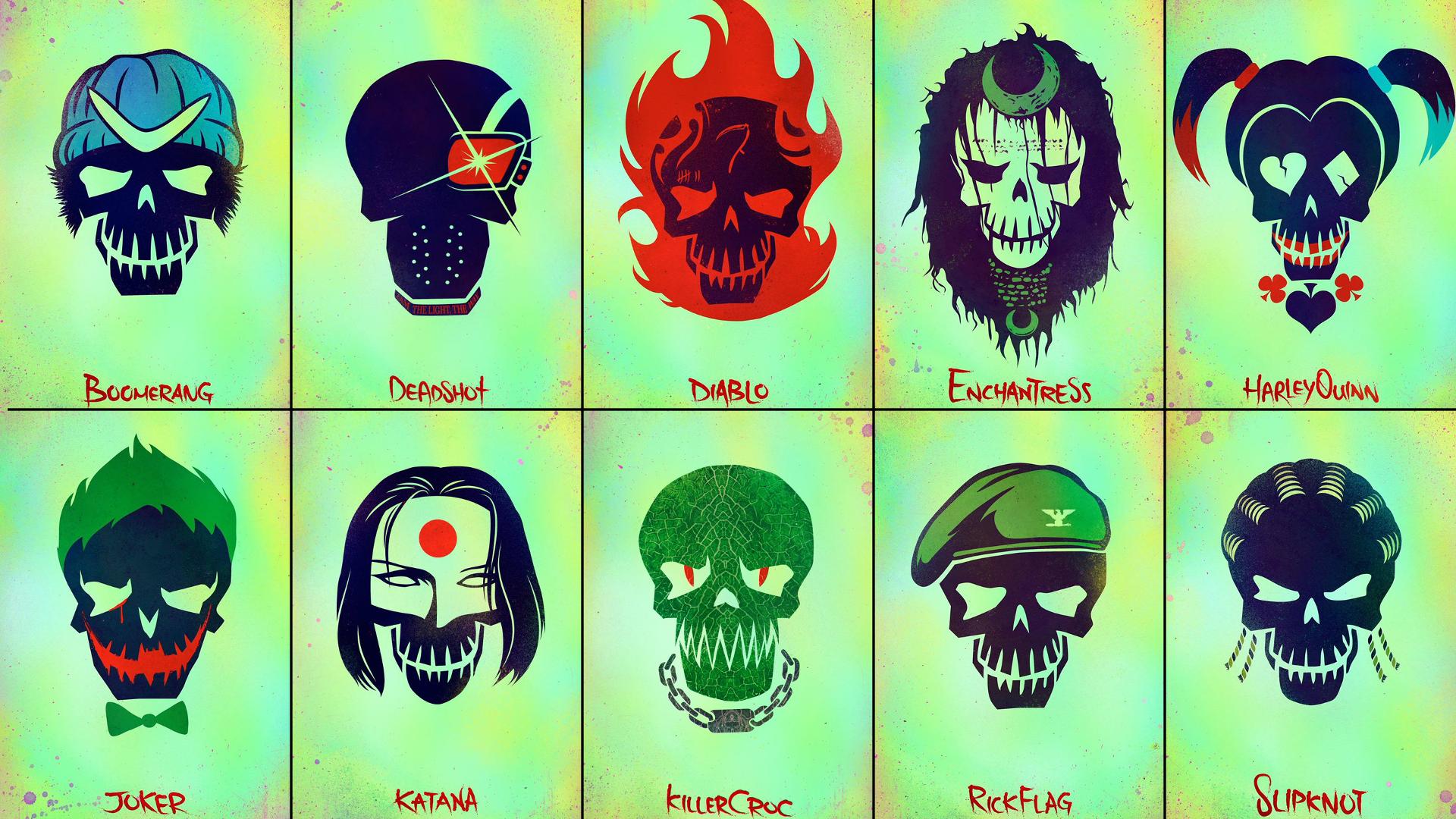 So despite the large amount of characters, the story didn't feel forced or blogged down like Dawn of Justice. The film quickly establishes the character's past, their skills and that their now in prison. The plot is tightly focused on its characters and it's goals, and it always knows where it's going throughout the run time. With each character having one moment to shine as a character, or show of in the excellent fight scenes. The choreography from the actors is superb, its fast paced with the characters giving a variety of fighting styles making the scenes look and feel fun to watch. All this with very good CGI on the creatures that serve Enchantress. As for the CG on her brother, it's….noticeable; in particularly the face they give him. But all of the editing, the makeup, the production design is just excellently made with very good designs and attention to detail. Plus the film has a very good soundtrack throughout; ranging from artist such as: Eminem, Black Sabbath, and many more, which fits the tone of the very well. In particularly Dead Shot's try outs set to Black Skinhead by Kanye West.
But, the one major thing I'll say about the story, going back it, the plot isn't really original. The plan of Enchantress and her brother is basically: "We were trapped for centuries by the mortal humans, so watch as we take vengeance upon them." Yeah it isn't exactly the most creative plots ever as most story's that feature a trapped demon usually involve him pulling a revenge plot on someone, or the rest of the world. Enchantress was probably the weakest character, when she's on her own. But overall, DC and Warner Brothers has stepped up in terms running a DC Cinematic universe, as this by far the best film they've done so far in the DCEU. With well written characters performed by a great cast, fun action that looks amazing on the big screen, all within a tightly focused story that constantly knows where it's going despite a large amount of characters where some are more shown than others; but do have enough back story and development to make you interested in what's happening.
So yeah, DC is fun again. As much as I liked the previous two films despite any flaws, this is a major step up, and would highly recommend despite the story being done before multiple times, that would've benefited with some tweaks and polishing; ending up with some characters better developed than others. But DC, more fun films like this please!
Eight out of ten.
Thank you for your time.